Indianapolis Epoxy Floor
With streamlined attention to detail and effective installation processes, our epoxy flooring company is your go-to source for high-quality epoxy flooring in Indianapolis.
Our qualified staff is well-versed in garage floor epoxy coatings; you can rest assured that you will receive only the most beautiful Epoxy floor Coatings on the market. We take great pride in our comparatively lower prices and believe the impressive benefits of epoxy should be available at affordable prices.
Besides providing the best epoxy floor coatings in all regional Indianapolis areas, we also offer friendly and helpful customer service to any concerns or questions that arise during the installation process. You're Guaranteed to have Excellent service if you choose Concrete Indy as your Indianapolis Epoxy Floor Coating Contractor.
Attractive, Durable Epoxy Floor Coatings
With a wide array of color options, epoxy floor products from Concrete Indy are known for their exceptional, attractive appearance and their durable, rock-solid quality. Our Direct Concrete Epoxy Floor Coatings is the strongest epoxy of its kind on the market. It's also the backbone of our decorative coating systems, each of which offers a truly one-of-kind finish on every installation.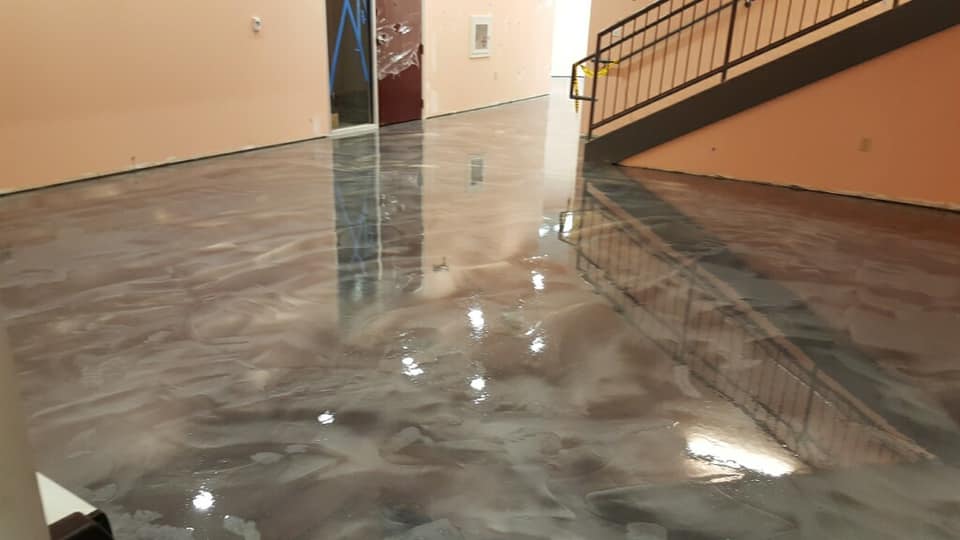 Residential and Commercial Epoxy Flooring Services
Epoxy applications are not just for home garages. Epoxy coatings are utilized in commercial settings such as warehouses, commercial kitchens, machine shops, aircraft hangars, auto-shops, industrial facilities, and any floor that requires a durable, long-lasting coating. Floors that endure high foot traffic are perfect candidates for epoxy floor coatings. Outdoor floors and staircases exposed to inclement weather can be secured with quartz-mixed epoxy coatings, creating an anti-slip profile. We further improve the flooring appearance by repairing light cracks and divots before applying the epoxy coating.


To summarize our installation process, we begin with the floor preparation, which is key to a long-lasting floor. We employ the use of large diamond concrete grinding machines, as well as angle grinders and scrapers for compact areas, to remove all loose dirt and debris (and any previous coating) from the floor.

After the floor is prepared for maximum adhesion, we apply the epoxy coatings and decorative chip flakes for texture, grip, and anti-slip characteristics. After the coatings have fully cured (typically the next day), we apply a polyurethane clear coat for that glossy finish.

We efficiently tackle the arduous tasks of removing old grime, grease, paint, or any other undesirable material that was previously plaguing your floor. Secure your floors and the safety of your employees by cleaning and highlighting high traffic walk areas.
Epoxy Coatings in Commercial Setting
Many businesses have employed us to apply epoxy coatings to a variety of places, including bar tops, kitchens, patio areas, offices, and showrooms, to customize their appearance. In addition to chip flake flooring, we offer metallic coatings, which provide a unique and decorative finish.
What is Epoxy?
The chemistry behind epoxy coatings can be quite complex, but rather than going into those complicated details, it makes sense to give a basic version of what epoxy is and how it works. Epoxy is a thermosetting epoxide polymer. This means that when the adhesive cures, it cannot return to its original form. It reacts with other chemicals, which help to cure or harden it, and this creates a very strong and very durable adhesive. These same chemical properties are what make it so useful in sealing and protecting surfaces. Because of these properties, it is useful for commercial, residential, industrial, marine, and even art applications. In fact, epoxy is useful just about everywhere.
Types of Epoxy
When looking into getting epoxy for your own flooring or covering needs, it is important to know the basic types of epoxy that are available. It is also essential to know your options as well as where you will be able to find them.

1. 100% Solid-Based Epoxy – This is the strongest type of epoxy that you will find today, but with that strength comes an added expense. Most commercial applications will find that this added cost is justified due to its durability and resistance to harsh conditions. You will often find these in industrial and warehouse settings that have floors that take quite a bit of abuse from a heavy machine, forklifts, vehicles, and more. Since it's known as the premium epoxy product in the industry, it is difficult to install, and we highly suggest that only professionals install your product.


2. Solvent-Based Epoxy – Although not 100% solid, it is very practical and useful for many different types of industrial use. They generally contain 40% to 60% solids, and you do have to take precautions just as you would with solid-based. Because of its excellent bonding properties, it is an ideal primer for industrial or commercial-grade applications. We often use this method in our own commercial epoxy systems.

3. Water-Based Epoxy – The most economical and practical choice for residential applications. This type of epoxy can withstand normal foot and vehicle traffic that one might have in a garage, walkway or finished basement with concrete flooring. These are often available in home improvement stores. At Concrete Indy, we use a grade above the big box store options and use Sherwin Williams epoxy products.

In addition to the various types, including the tile-clad variety of flooring, you will also find quite a few different colors available, which will be able to match your aesthetic and decorating needs. The chips mixed into the epoxy can help to give it a nice look as well.
Benefits of Epoxy Flooring Coating
1. Affordable – Compared to other types of flooring costs, epoxy is long-lasting and easy to care for, which cuts down on maintenance costs in the future.

2. Easy Maintenance – Epoxy flooring is very simple to care for. With simple occasional cleaning and a reseal every five years, your floors should remain in great shape for decades!

3. Durable – You want to have flooring that is going to last and that can stand up to the abuses of weather and everyday traffic. Epoxy hardens into a protective shell that has the potential to last a lifetime with proper care. It will retain its good looks much longer than many other types of flooring.


4. Creative and Beautiful Designs – While it is true that epoxy flooring has quite a bit of use in the industrial sector, that does not mean that it has to have a sterile industrial appearance. Residential homes working with professionals are able to create some beautiful designs and aesthetically pleasing floors with this type of coating.

5. Safer/Anti-Slip – Another great thing about this type of flooring is that it can offer slip resistance. This can be especially helpful on wet floors and in areas where safety is going to be a primary concern. List item 3

6. Fewer Particulates – These floors are not going to hold onto dust and other particulates as easily as typical flooring. This means that regularly sweeping and cleaning this type of flooring will be much easier compared to traditional floors.

7. Fast Installation – The installation of epoxy coating in normal conditions is relatively quick, especially when you have the professionals doing it for you. Preparation is the key to ensuring a fast, easy, and quality installation.
Preparation for the Coating
Proper preparation of the flooring is the most important step when one is getting ready to apply epoxy. If you do not set up the floor properly, the result is going to be poor adhesion, which causes the coating to peel and flake prematurely. You need to make sure that you clean the entire surface thoroughly, and this can be a labor-intensive task. Remove the dirt, dust, and other particles on the floor, and do your best to remove stains. It is important that you clean the entirety of the floor, including the corners and along the edges. You will want to do this by hand to get the best results.

For grimy/greasy surfaces, acid etching is usually the next step in getting a floor ready for the epoxy coating. Always make sure that you are wearing the proper safety. Spray the mixture onto the floor, which should cause some fizzing to show you that it is working. When the fizzing stops, you may rinse with water. However, if done incorrectly, inadvertent damage may result from improper use of acid etching.

At Concrete Indy in Indianapolis Epoxy Floors Coatings Indianapolis, the preferred method is using a large diamond surface grinder to prepare the floors for maximum adhesion. We always ensure that the surface is ready for proper installation. Next, you will want to look for any cracks or holes that you will have to repair before applying the epoxy. While these steps are not overly difficult, they are very time-consuming, and one misstep can cause quite a bit of trouble for your floor.

Why Should You Hire a Professional?
It would be best if you considered employing professionals to do the epoxy flooring process. When you work with professionals, you will enjoy a slew of benefits.

At Concrete Indy, we have specialized techniques of using solvent-based as well as 100 percent solids in the same application to create an industrial-grade system that is second to none. In addition, we will take care of the floor cleaning and preparation for you. We clean the floors with high-quality tools and cleaners to ensure they are ready for adhesion. This ensures that you are doing it right the first time, and it will save you money and quite a few headaches. We are specialists and have done hundreds of epoxy installs in the concrete area for many years. You will be able to rest easy knowing that your floors are safe in the hands of the pros!

Servicing the Greater Indianapolis area
We service all of the Indianapolis and central Indiana area for epoxy floor coatings. If you are interested in a free quote, we would be more than happy to come on-site and measure everything up and get you a free quote. If you are located within 50 miles of Indianapolis and are interested in Epoxy Floor Coating for a Residential or Commercial Project, we provide a vast amount of service in the following areas Carmel, Fishers, Noblesville, Greenwood, Avon, Plainfield, Brownsburg, Westfield, Shelbyville, Indianapolis, Speedway, Beech Grove, Zionsville, and McCordsville. Concrete Indy would be more than happy to be your Greater Indianapolis Epoxy Flooring Contractor.
Free Epoxy Floor Coating Quote
Indianapolis Epoxy flooring Gallery
Indianapolis Chips Color Options